USE CASES | Workforce Optimization
Do you struggle with
managing a large egineering team?
Now you can manage even bigger teams with data
Instead of asking, having one-on-ones every day and sending messages to all your people, you can have a quick glance at our dashboards.
By harnessing the power of data, you can optimize your workforce and achieve greater efficiency.
GET A DEMO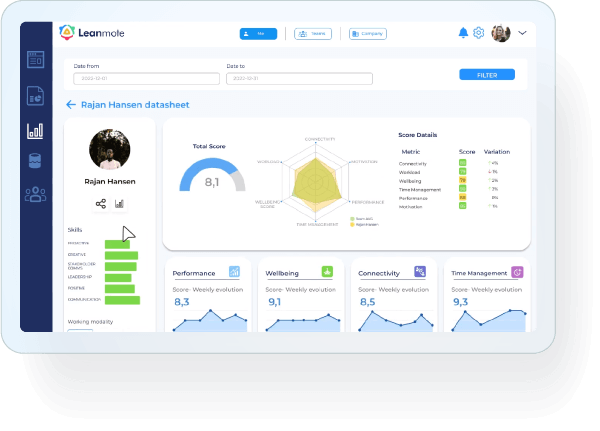 Maximize your resources
You'll gain a deeper understanding of your team's strengths and weaknesses. This knowledge will help you

allocate resources more effectively

, maximizing the productivity of your engineering team.

Make strategic decisions about team composition and task assignments

, by identifying which team members are most effective in which areas.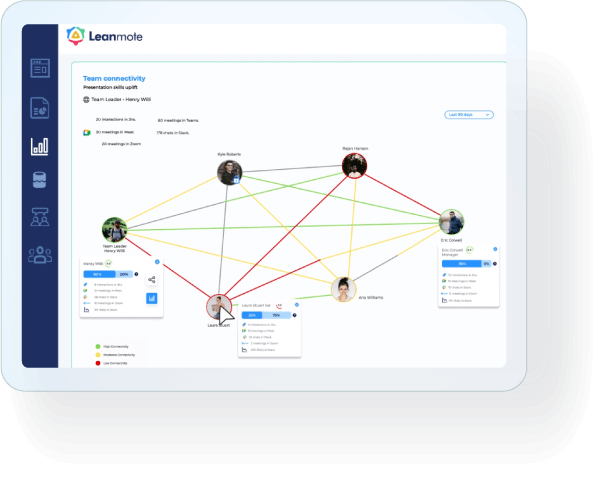 Optimize your workflow
Identify opportunities in your team's workflow

. By analyzing data on task completion times, communication patterns, and more, you'll be able to identify areas where your engineering team can improve. Support them to grow- it's a good practice as a manager.

Make changes that will streamline your workflow

, reducing the time and effort required to complete tasks. With information, you can make better decisions!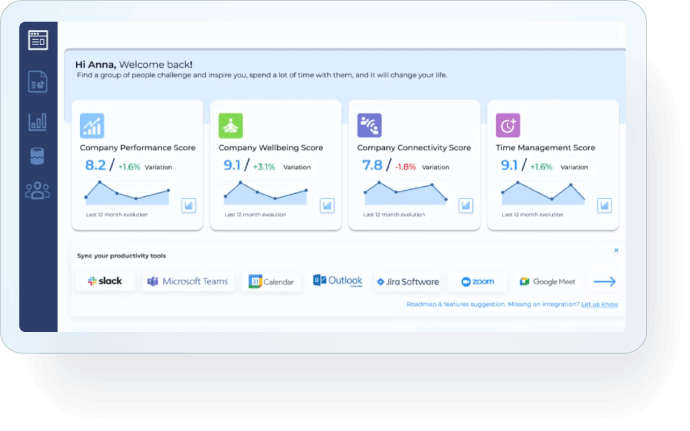 Enhance performance and efficiency
People Analytics can help you identify patterns in your team's performance, such as which factors lead to increased productivity and which ones detract from it

Make data-driven decisions that will help you improve performance across your entire engineering team.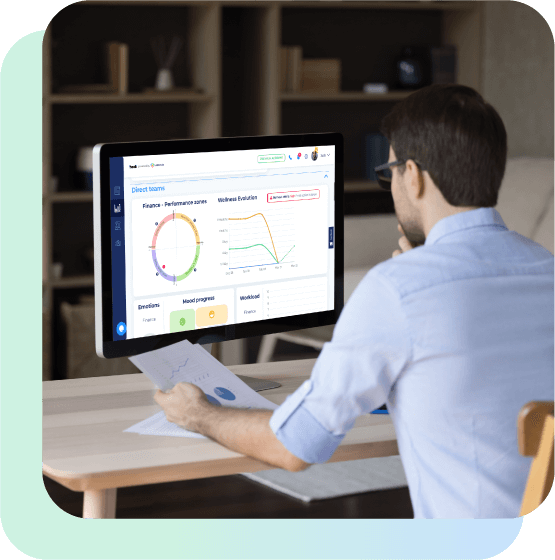 Examples when Leanmote is very useful:
Detect possible cases of isolation on time.
Make intelligent decisions to prevent burnouts.
Strategically form working teams that will have a sustainable performance over time. Who works better with who? Put them together and let give them the chance to innovate.
Identify bottlenecks on your delivery processes and drive positive change
Build trust and belonging to the company by understanding your teams.
Make data-driven decisions that are important to your team, and each member of it.
Engaged and happy teams work better, is a fact.
Don't let a lack of data- or anything! - hold you back from achieving workforce optimization and efficiency.
All the data is there for you to use it!
The only thing you need is Leanmote to collect it and show it to you in easy dashboards.